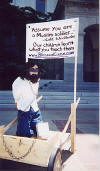 Days before John Walker Lindh's trial, on Monday, July 8th I called the offices of J. Brosnahan, John Walker Lindh's attorney. I directed them to this website, where they would find dozens of pages of direct textbook quotes leading students (including Walker) to Islam. At their request I sent an email with a link to the picture of an effigy of John Walker chained at the steps of California's state capitol. (click on picture.) The banner states,
"Assume you are a Muslim soldier…"
- Calif. textbooks
Our children learn what you teach them.
According to main media, two days later, on Wednesday July 10th, the Justice Department [prosecution] lawyers informed the White House about their intention to strike a deal with Walker. On Thursday, White House Counsel Alberto R. Gonzalez briefed President Bush and got his approval. Negotiations progressed beyond midnight Sunday, July 14th and an agreement was reached hours before the Monday morning hearing was to begin, "catching even the trial judge off guard."

Brosnahan stated that based on earlier rulings, he expected the Judge to REJECT defense motions that the statements by John Walker be thrown out. Also crippling to Walker's defense, Robert Pelton, journalist, was ordered to testify for the prosecution.

Yet suddenly, the prosecution initiated the negotiation with John Walker's lawyers, within days of John Walker's lawyer receiving direct quotes from the textbook leading students to Islam. John Walker did a great job "assuming he was a Muslim soldier" as the textbook taught him.
The conditions for the plea bargain were replete with conditions and restrictions over John giving his life story to the media or as a book.
Meanwhile, BlessedCause webstats for July suddenly received a minimum of 422 hits/347 requested files from the US Govt. The previous month showed 0 from the US Govt. The US Military showed 761 hits/742 files.
Prior to President Bush taking office, during the Clinton administration, the Calif. Dept. of Education would only fund Houghton Mifflin's "Across the Centuries." With California's endorsement, this textbook has been gaining ground nationwide. In the October 30, 2000 issue, Forbes magazine observed that Delaine Eastin, California's superintendent of public instruction, "sought and received campaign contributions from textbook publishers." Unbelievably "Across the Centuries" had California's exclusive endorsement these past 11 years.
Textbook Fallout
Vivendi, owner of Houghton Mifflin, (previously known as Havas) posted the following headline on their website dated July 1, 2001:
Vivendi Universal Publishing (VUP) Will Become No. 2 Worldwide in Education Field -
VUP Will Be Among The Leaders in the United States for Primary Education Materials -

One year after this post, (7 months after our public protests began), Vivindi replaced Nader F. Darehshori, CEO/President of Houghton Mifflin. Mr. Darehshori previously taught elementary school in Iran. He began work for HM in 1966 and became President in 1991, simultaneous to "Across the Centuries" debut. Mr. Darehshori was replaced by Hans Gieskes of the Netherlands on July 1, 2002.
On Aug. 3, PE.com reported, "The California Board of Education is scheduled to hear proposals for new textbooks next year, said Chris Dowell, a curriculum consultant for the state." Within two weeks of this report, Vivendi, owner of HM, announced HM was on the "chopping block."
Months later it's reported that Vivendi has been unable to secure a high enough bid to sell Houghton Mifflin. Sale price has been reported at a loss of $500 million to Vivendi, (or half a billion, see Houghton Mifflin for sale, cheap).
On Oct. 23, 2002, Vivendi announced negotiations with Lagardere to purchase its publishing businesses, with the exclusion of Houghton Mifflin.

"As to Houghton Mifflin, Vivendi Universal is examining the possibility of starting the disposal process again in order to be able to open it up to a higher number of potential acquirers."
(In other words, in pieces). Since that time negotiations for Houghton Mifflin has become a revolving door of prospective buyers, many continuing negotiations of other Vivendi assets noting the expressed exclusion of Houghton Mifflin. On November 1, 2002, Arabia.com reports "Vivendi shares weaken, investors discount Houghton Mifflin sale." As of January 1st, neither Vivendi's website nor Houghton Mifflin's has posted a sealed deal.
Although Vivendi had hit a financial crisis and is in need of fast cash, it is not typical for corporations to put healthy money-making ventures, recently acquired, for sale at a fraction of their cost.
Other publishing companies had previously stated they were watching the progress of Houghton Mifflin to see if they should compete in like manner. A recent article shows that McGraw-Hill is carefully incorporating the feedback from conservative Texas groups.
Meanwhile, Google.com is posting pages from this website on the first Google page when the following search is made:
[ textbook, Vivendi, Houghton Mifflin, buy ]
or [ Houghton Mifflin, Across the Centuries ] Other organizations have jumped on the band wagon with objections as well, strengthening the battle and making first pages. The issue cannot be missed.
UPDATE: Houghton Mifflin finally sold for what looks like $58% of it's purchase price the previous year (a deficit of $920 million). It's new owners have listed their math and reading expansion plans, without a word about social studies.
Feb 2003, Shepherd Smith of Fox News gave a report that the Houghton Mifflin textbook had a shelf life of five years...so we can expect to see some Islam promotion coming home with our children from school for a while.
Bill O'Reilly and the Factor asked Brad Dacus of Pacific Justice Institute about the "hall of shame" list of which "Across the Centuries" was on. A brief mention of California's changing the situation took place, to which Brad said he hoped all the other states would follow California's lead.
Thomas More is still working on the federally filed law suit and Pacific Justice is still developing theirs.
Blatant promotion of Islam while scorning Jews and maligning Christians has consequences, as does the predominant promotion of atheism. I praise God for every saint that prayed and sought God in this battle over the education and safety of our children. God has heard our prayers and one way or another, He will answer.
Our religious freedom is still under heavy attack as children are forced to know other gods and learn atheist philosophy. Make no mistake, when these events happen, God is angry. If we turn our backs on God, He will turn His back on us.
In California, when elementary students were encouraged to dance to African gods, God knew. When our children were asked to demonstrate prayer to Allah on their hands and knees, God was there. When an English teacher claimed to have psychic powers and had our children participate in clairvoyance, God watched. And when children are taught homosexuality as an option to consider, under the guise of "tolerance", God's wrath draws near. There is so much more at stake here than we realize. As history proves, our choices concerning our children have monumental national consequences. Saints, keep praying, God is listening!
-Jennifer Schroder
See dozens of articles covering the outrage nationwide over Houghton Mifflin textbooks.
Houghton Mifflin Textbook Reviews:
7th Grade, Promotion of Islam
6th Grade, Maligning Christianity
6th Grade, Falsifying Jewish History
Houghton Mifflin Textbook: "God is gone"
BlessedCause Analysis of
Houghton Mifflin's Response
Law Suit Filed by Thomas More Law Center lists "Across the Centuries" in their press release