Posted three days before Mohammed Bouazizi set fire to himself in Tunisia, touching off the uprising that rages all over the world...the "Arab Spring" as Islam grows in power:
Blow the trumpets,
weep for our children!
12/13/10 by Jen Shroder, free to repost
Blow the trumpets! Sound the alarm! Awake, awake, awake and arise! For these United States have been led away.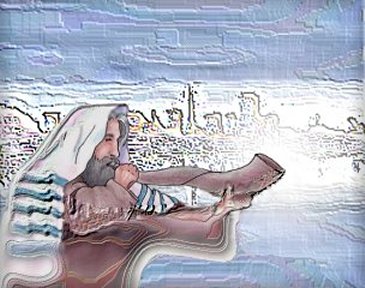 The law is powerless,
And justice never goes forth.
For the wicked surround the righteous;
Therefore perverse judgment proceeds.
We represented all nations and God gave us His light to shine on a hill. We were a Christian nation. We have cherished His word; we have humbled ourselves and prayed on our knees, yes even face to the ground. We, and our fathers before us, fought and died to preserve freedom, that all could worship freely. We have been blessed with the Holy Spirit who comforted us, we have been able to openly share with and welcome new saints all over the world. And so the world recognizes us as a Christian nation. To the world we represent Christ since our birth, our roots, our traditions, our forefathers, our missionaries. We have stood reflecting His light, proclaiming the name of Jesus Christ. We have been like no other nation and for generations we have been blessed.
But our leaders plot against Israel as the time of the Gentiles is setting. Weep for our children overwhelmed by the darkness that has entered this Gentile melting pot. Our people now revel in evil. With prosperity we forsook Him. The Lord will not suffer the children, HIS children, be lured to darkness much longer.
We lead our children to sexual dances and look away as they fornicate, then we tell them to lie down and murder their unborn. Those who are spared have been put up for auction to the highest bidder. Our public schools are full of blasphemy and fornication. We trusted our young to the world and closed our eyes while their minds were corrupted, full of death and perversion.
For indeed I am raising up the Chaldeans,
A bitter and hasty nation
Which marches through the breadth of the earth,
To possess dwelling places that are not theirs.
And so history repeats itself, did we expect to fare better than Israel with her back to the Lord? Are we better than Sodom and Gomorrah? Did we think we could exalt all gods and our Creator would not see? Does He not see how we teach His little ones to play the harlot even in class? To do what is unnatural with each other hidden even in hallways? GOD SEES, He knows, and His wrath is kindling while we mock and jeer and parade through the streets gyrating acts of fornication and perversion in front of missions and on the steps of His churches as even parents clap with their children.
Their faces are set like the east wind.
They gather captives like sand.
Ascribing this power to their god.
And when we are struck we call out to our God and pretend that we know Him, we suddenly hush and tell each other He will not leave us when we have mocked and blasphemed His name for so long!
Behold the proud,
His soul is not upright in him;
But the just shall live by faith.

We have kissed the books of their gods and told our children to walk in their ways and then wonder why God does not shield us from their judgments even as we turn on Israel! Even as we demand she negotiate her land and call it "peace," this is not the peace of Israel!
We were so blessed and prospered! But then we thought ourselves wise and above God, we proudly shunned all of His precepts and tore down His commandments and hid His inscriptions and pretend He does not exist. Then we toppled governments and insisted our "freedom" be imposed as we prepare our abortion mills and promote all pornography, pedophilia, sorcery and pharmakeia and present it to the world as from a Christian nation. It will not stand!
Woe to him who gives drink to his neighbor,
Pressing him to your bottle,
Even to make him drunk,
That you may look on his nakedness!

We teach our children to bow to other gods and when the nations of those gods surround us, we are astonished. We call out to the God of Abraham, Isaac and Jacob but He will not hear our leaders who have taken us to such blasphemous places and then call out His name and pretend to know Him! Before the smoke has cleared we return to our idolatries, our games, our vain occupations and say the Lord will accept us because we are worthy.
For this reason in one day her plagues will come, pestilence and mourning and famine, and she will be burned up with fire; for the Lord God who judges her is strong.
God will call to His children and His own will know Him. But to you that sit and feast at unknown tables, eat and drink the portions you have prepared for yourselves. The time of trouble is at hand, for you have taken the candlestick and cover the flame. What has been given you has been trampled in His sight. He has seen it! The land will not be made to suffer our harlotry much longer!
Woe to him who says to wood, 'Awake!'
To silent stone, 'Arise! It shall teach!'
Behold, it is overlaid with gold and silver,
Yet in it there is no breath at all.
Trouble is coming to those who trespass on the land of Abraham, Isaac and Jacob, who rejoice at the groans of a nation that God has named. Who also dance at the torment of our once great Christian nation who even now tries to suffocate our own light. The Jews are God's people. He has told you through the ages He will not forsake them even to the end of time! When you torment His people, you provoke His hand. God will roar like a lion at a withering branch and those who oppose Him will crumble into the dust, an abhorrence forever. Do not turn on Israel! Do not dare to raise a hand against her or pressure her to lay down and die! For God will not allow Israel to fall!
Then I heard what sounded like a voice among the four living creatures, saying, "A quart of wheat for a day's wages, and three quarts of barley for a day's wages, and do not damage the oil and the wine!"
We provoke our own death and destruction! Do not blame the Muslims or the Chinese or the Russians or the North Koreans, Iran or Iraq or the nations that gather against us. We are guilty before God! We brought this on ourselves!
Though the fig tree may not blossom,
Nor fruit be on the vines;
Though the labor of the olive may fail,
And the fields yield no food;
Though the flock may be cut off from the fold,
And there be no herd in the stalls—
Yet we will rejoice in the LORD,
We will joy in the God of our salvation.
The LORD God is our strength;
If you know Him, stand fast in what you have. If you don't know the God of Abraham, Isaac and Jacob, if you have not reconciled yourself to Him through Jesus Christ who suffered, died and rose again to purchase you that you could be His…now is a good time to start.
"The Spirit of the LORD is upon Me,
Because He has anointed Me
To preach the gospel to the poor;
He has sent Me to heal the brokenhearted,
To proclaim liberty to the captives
And recovery of sight to the blind,
To set at liberty those who are oppressed;
To proclaim the acceptable year of the LORD."
Jesus stood in the synagogue and read that passage. He is coming back for the rest. I urge you, do not be caught without Him. Seek Him while there is still time.
Greatly rejoice in the LORD,
Would that your soul be joyful in your God;
For He would clothe you with the garments of salvation,
He would cover you with the robe of righteousness,
As a bridegroom decks himself with ornaments,
And as a bride adorns herself with her jewels.
For as the earth brings forth its bud,
As the garden causes the things that are sown in it to spring forth,
So the Lord GOD will cause righteousness and praise to spring forth before all the nations.
***
See also A Message from God
Mosques, Muslims and Minivans
Stock Markets, Shopping Malls and Sprinklers of Fire
I am clearly not supposed to write against Islam any longer but rather why America is in trouble, it is us. It will not be a popular message. I might get dropped by publishers, my webstats might plummet, but it doesn't matter. It's what I have to post.
Escape of the Revelation 12 woman
Part II: Study of the Revelation 12 woman
Part III: King of my heart
All things in Christ (old posts at top of google)
Warning from God Index

Our God is a Jealous God
My Ways are Not God's Ways (sigh)